| | | |
| --- | --- | --- |
| Roy with Trumpeter Buck Clayton | Roy with Bob McCoy of the Tonight Show/Johnny Carson fame | Roy with life-long best friend Ray Maldonado of Stevie Wonder fame |
| | |
| --- | --- |
| Roy with Comedian Red Buttons | Roy with the Collective Black Artists Orchestra, Kenny Rogers, soloist |
Roy with La Plata Sextet, with Red Buttons (Falls View Hotel, Catskill Mountains, NY)

Roy with Pete Rodriguez Band (lower right--mustache didn't work!)
| | |
| --- | --- |
| La Plata Sextet (Roy on right) | Roy with La Protesta at the New York Casino; taping TV show |
| | | |
| --- | --- | --- |
| Roy with singer Daisy Guzman | Roy with legendary Machito Orchestra (see Graciela, bottom left) | In the air again! |
| | | |
| --- | --- | --- |
| Roy with the Collective Black Artists Orchestra (note: Frank Foster - front center; Reggie Workman on bass; Mario Rivera - tenor - front right; Roy playing lead - center back | Roy with Charlie Palmieri in Venezuela | Roy with Charlie Palmieri, tv show |
| | | |
| --- | --- | --- |
| Roy (when he was a musclehead - on right) with Bobby Nelson (left) and Rolando (middle) | | Roy with trumpeter Lou LaRita |
| | | |
| --- | --- | --- |
| Roy with Lionel Hampton | Rehearsing with Tito Puente, Miami, FL | Roy and Tito Puente |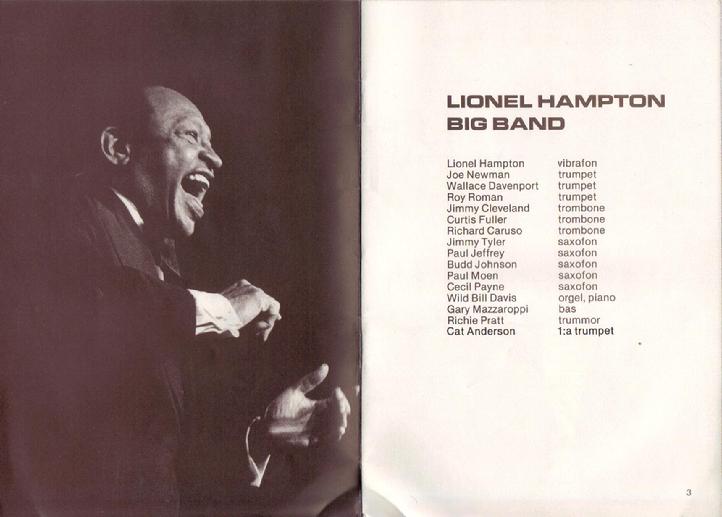 Lionel Hampton Big Band Roster; Germany, 1979. Playing with Hamp was a great delight. It gave me a chance to blow any kind of thing I wanted to blow. The higher and louder I played, the more he loved it. This was great practice and a great opportunity to hone my embouchure skills. I can't tell you how many "one more time" endings we did...over and over again. Double C's galore, E's and G's above double C galore and guess what? He would shout out, "one more time!" Imagine sitting next to Cat Anderson for almost ten years and some of the other great, great musicians. It was like being a little kid in a candy store. I'm grateful to have had the opportunity to be a part of history.
| | | |
| --- | --- | --- |
| Roy with trumpeter Pam Fleming, NYC | Roy as Jazz Soloist at the historic Village Gate, NYC | Roy with Joey Pastrana's band, NYC |
Another camera shot of the same date at the Village Gate. These were some of the greatest times ever. New York was jumping and buzzing. It almost didn't matter what club you played at. The excitement of music in the air was intoxicating. Just imagine the hustle & bustle of the cars and the noise of buses and trucks...and contrast that with the gentleness of musical love...what a great time to be a musician!
| | | |
| --- | --- | --- |
| Roy with Raphael de Jesus at the Corso, NYC, 1985 | | Calle Ocho with Bobby Cruz |
| | | |
| --- | --- | --- |
| Roy at Bobby Cruz/Richie Ray Reunion in Puerto Rico | Puerto Rico with Bobby Cruz | Fountain Bleu, Miami, FL |
Promo photo for my big band album & concert performances; circa 1980's. Conn Constellation and my Reeves copy of my Roy Stevens/Costello mouthpiece. Triple A's were a regular thing....maybe it was the hair.
| | |
| --- | --- |
| Honored to be considered "one of his heavyweights!" This man was awesome. | Warming up just before my big band performance near Lincoln Center, NYC 1982 |
Of all the honors and credits I have ever received, this one has to be my most treasured. I was doing a concert in Connecticut and in the audience was the president of Jet-Tone Mouthpieces, Bill Ratzenburger. At the end of the concert, he came over to me and said he was absolutely amazed and would I mind if he would design a mouthpiece for me. He insisted that he hadn't heard anything like this since Maynard. I was humbled by his generosity and actually brought to tears when I received these fliers. What do you say after that? Other than thank you for your generosity. Later I sat next to the amazing Lin Biviano on Count Basie's Orchestra and I was brought back down to earth.
Roy Stevens as a young star in the middle of the great jazz era.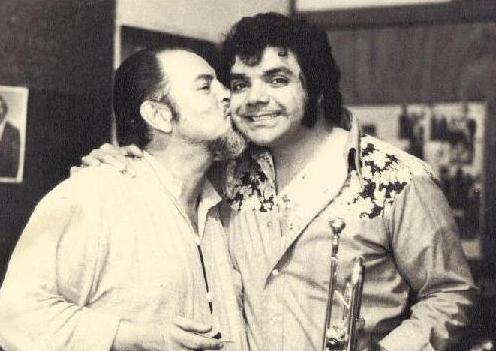 Roy with trumpet mentor and father-figure Roy Stevens
The 20 many years or so that I spent with Roy Stevens were the most enlightening, encouraging, edifying and personally-equipping that I have ever spent anywhere else in the world. All these years later I still depend on the wealth of knowledge that I received from this amazing man. He was a blessing from God.